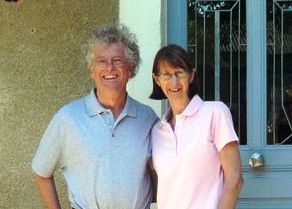 We are Steve & Judie Burman and for over twelve years, we've lived and worked in the Vezere Valley, France providing very special, small group Caves & Castles Tours - our Cave Art Tour is the most popular and it's not surprising, it takes in Lascaux 2, Lascaux 4, Font de Gaume, Les Combarelles, Rouffignac, Cougnac and more!
Steve is a medieval historian and archaeologist – a perfect background to help our guests get the best of their stay. There's over a thousand chateaux in Perigord as this area of France is called. And it's a real hot bed of decorated caves. Lascaux is possibly the best known – there are now two facsimiles – Lascaux 2 and Lascaux 4. Very different styles of presentation, but both amazing. They're incredibly accurate and the materials and techniques used were just the same as the original artists – our ancestors. Both are extraordinary achievements and will take your breath away.
Other cave sites include:
Font de Gaume – the only polychrome Ice Age cave in the world open to the public
Les Combarelles – famous for the 'Kissing Reindeer'
Rouffignac – the 'Cave of the Hundred Mammoths'
Cougnac – you see both archaeology and geological marvels here
Castel Merle – as near an original landscape as you will find
Pech Merle – famous for its spotted horses and hands
Caves and Castles are members of Slow Travel Tours, an informal affiliation of small-group tour operators who offer personalised trips in France, Italy and other European countries. Check out our Slow Travel Tour Blog to find out more about the various Tours available.